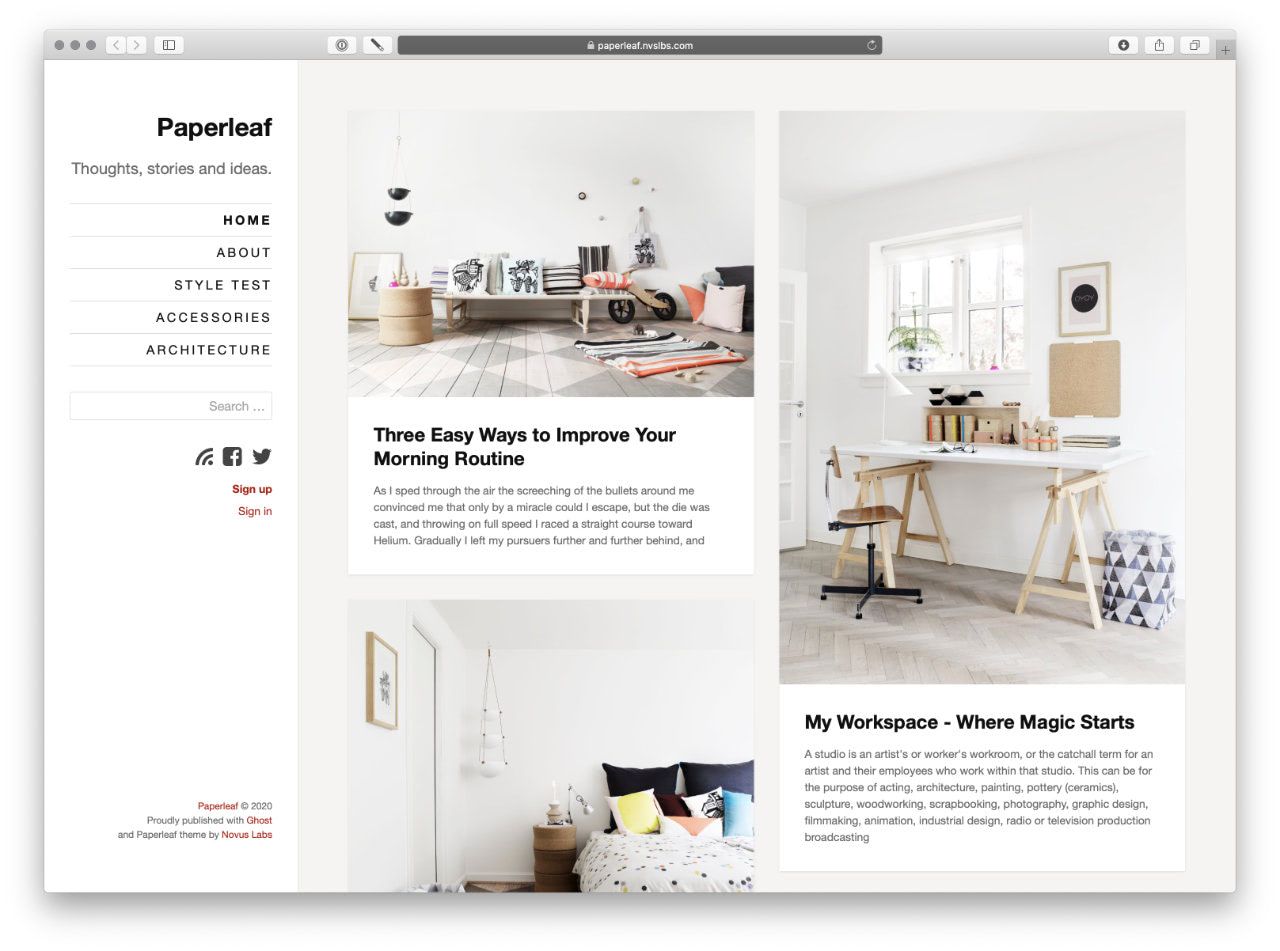 Paperleaf is clean and minimal Ghost theme that you can use for many different types of websites. It can power blog, portfolio, recipes collection, reading list, links list... it all comes down to the idea you have on your mind.
Paperleaf theme is compatible with Ghost 5.x+. It includes support for global accent color for links, buttons and forms customizations.
3.0 theme update brings memberships and subscriptions support. Turn your regular readers to subscribers and make recurring revenue with your website.
Theme is responsive and works great on all device types. Custom AMP template matches theme design and provides support for Google AMP. Graphics and icons are ready for high-resolution screens.
Features
Support for Ghost 5.x+ 🌟
Memberships and subscriptions👫
Support for Membership tiers 🙋‍♀️
Support for built-it comments 📣
Use of global accent color 🎨
Public preview dividers 🗂️
Masonry grid 🧱
Author page 👨‍🎨
All authors page - preview here
Tag page 🏷️
Google AMP custom page design
Built-in search 🔎
Custom logo
Custom sidebar background image
Responsive 💻📱
High-resolution screen ready 🗡️
Great Google PageSpeed scores ⚡️
GTmetrix Grade Performance: A (93%)
Ghost GScan: 100/100 points
Compatible with modern browsers
Support
Get in touch with us on ThemeForest and we will gladly help if you have any issues with our themes.
P.S. The lovely images used for demo site are from beautiful Story North shop. Check them out as they have some amazing stuff over there.